Safe
Fire Rated
Hoardings on a National Scale
Call us on 0333 444 8052 for advice & quotes
PRNS fire rated hoardings are available nationwide. From London to Oban in Northern Scotland our fire rated hoardings have been keeping people safe on a nationwide. Displayed above in the video is the process of the fire rated hoardings for a site in London we done recently.
PRNS FIRE RATED HOARDINGS, A SAFER OPTION
Here is our certificate of supply for British Coatings Federation (BCF) for our fire retardant paint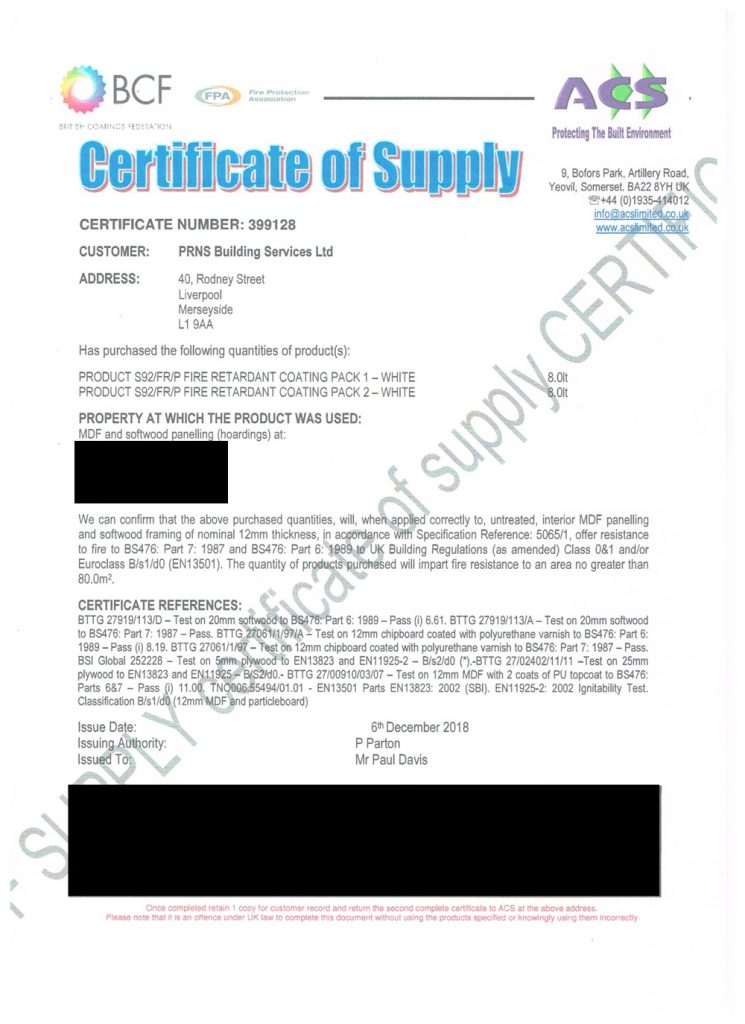 See images below it displays our operatives installing our Class 0 – Class B hoardings at Marriott Hotel, Bristol.
In the above video filmed by our videographer it walks through the stages of the project and showcases our operatives installing the fire rated hoardings on site:

On our first visit we supplied and installed fire rated temporary hoardings to both ends of the escalator. The PRNS operatives then assembled one side of the escalator. On our next visit, we will be completing both sides of the escalator and debris netting will be supplied and installed across the whole escalator.
Manchester Airport, Terminal 3
In the images above it displays our operatives installing fire-rated hoardings at the well known Manchester Airport.
Our team of operatives at the Manchester Airport site have fitted three fire rated temporary hoardings to the lift entrances to allow safe access and safe conditions for all operatives whilst working on the project. All the above was been completed to a high PRNS standard.

•  Supply and Fit Bespoke Timber
•  Steel Temporary Hoarding
•  Pit Excavation • Building New Lift Shafts
• Decoration of Lift Shaft, Pit, Motor Room
•  Electrical
•  Structural Opening
•  Supply and Fit Lifting Beams
•  Access Hatches
•  Concrete Entrances Opened Up
•  Making Good to Lift Entrances
•  Decoration to Lift Entrances
•  Removal of All Passenger Lifts
•  Core Drilling
• Plastering
• Tiling
• Brickwork
• Groundwork
• Electrical
• Joinery
• Painting & Decorating
• Refurbishments
• Kitchen Installations
• Bathroom Installations
• Extensions
• Roofing
• Letting Maintenance