The team at PRNS were on the Boots, Dartford site installed 4 temporary hoardings which were then uninstalled and removed from site. We then decorated the entrances, plastering, joinery and floors. This also included decorating a supply of chequer plate corners. The next phase of the site was landing and entrance thresholds. We then tested the lifting beam and ripped out the existing 630kg hydraulic lift. After disposal of the lift, we supplied a 32 AMP lockable from lift motor room to lift shaft.
BMI Alexandra Hospital, Cheadle
PRNS Building Services installed 2 temporary hoarding at Cheadle, with convenience and security coded locks and hazard recognition. 
For more information on our hoarding click HERE
Our team first installed temporary hoardings, painted the motor machine floor and the pit. Also, the lifting beam was tested.
First stage for the team at the Warrington School project was to raise the pit. The next stage we scrabbled back staircase and finished off with covering gaps with timber.
The team at PRNS supplied and installed temporary hoardings. We then decorated and refurbished all entrances, plastering, joinery and floors. This including supply of chequer plate corners, threshold fire line all entrances shaft side, setback boxes for pushes and indicators.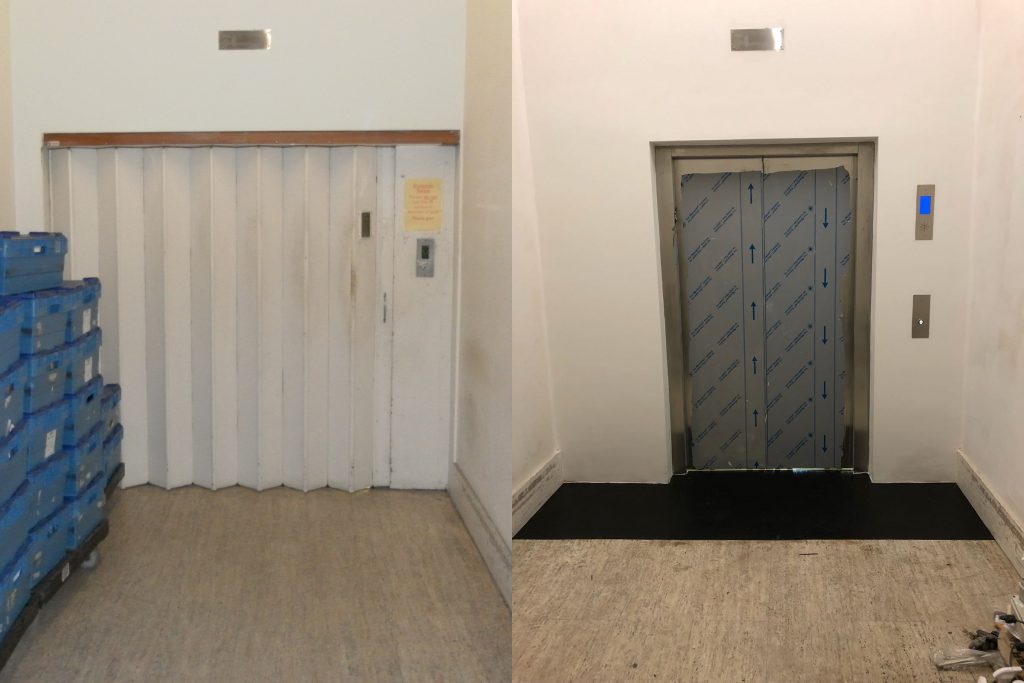 The team down at Reed Court in Lewes decorated the new entrances on both floors. Forming a new machine room door entrance, this needed to be a lockable double door opening into the corridor to form a safe barrier for the engineer. This is to prevent any hazards on the site of happening. We finished by decorating around this newly formed machine room door as seen in picture above.
Our team installed temporary hoardings with a Health & Safety warning on the door to prevent any hazards occurring on site. Morrison's supermarket – Colywn Bay.